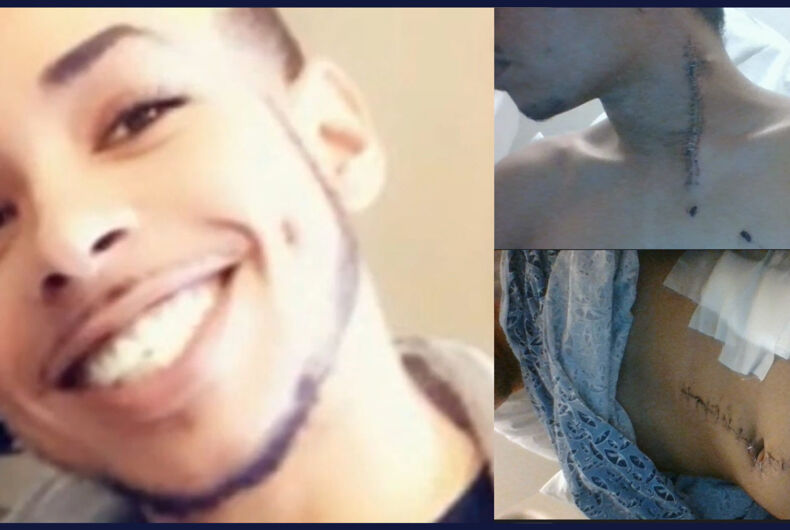 Anthony Crumbley (left) and his injuries (right)Photo: Composite/Screenshots
Anthony Crumbley was on his way home from a bar on December 18 in South Boston.
Within a matter of seconds, he was on the ground, bleeding from his neck, chest and stomach. He had been attacked by three strangers, who stabbed him and sliced his neck. He fell into a coma and, had he not had a friend with him to try and save his life, Crumbley may not have survived.
Related: Mom asks people to send cards to trans teen left paralyzed after being brutally beaten

Crumbley had lost his mother to leukemia a year prior, making him the sole caretaker of his 12-year old sister. Now, he has lost the ability to use his left arm — and came close to losing his life.
"I'm lost for words and even more so demoralized," he lamented, worried that he won't be able "to be the best big brother to my sister, who has gone [through] so much already."
Crumbley, who is still recovering at Boston Medical Center, finally had an opportunity to share his story over a week later. He had to celebrate his 25th birthday, on December 26, in the hospital.
"The two males and a female approached me and [the] two males attacked me and stabbed me in my neck and in my stomach, and pretty much ran and left me there," he told WBZ-TV, the CBS affiliate in Boston.
Crumbley believes he doesn't know the perpetrators, and the attack was provoked only his sexuality and demeanor. "I believe it was an attack that had to do with gay hate because, you know, I dress very femme and I'm a very outspoken person," he said.
"They didn't try to rob me or anything," he also told local ABC reporters at WCVB-5.
Despite Crumbley's stance that he didn't know the perpetrators, and police still claim they "have no reason" to investigate the incident as a hate crime.
Another friend of Crumbley's, Victoria Hernandez, is outraged by the apparently unprovoked attack, but she's further angered by the lack of media coverage immediately following the vicious crime.
"A GAY BLACK man was stabbed and left in critical condition 8 days ago from a hate crime," she wrote in one of several tweets that had hundreds of interactions right after Christmas. "Of course there is ZERO coverage besides a vague statement."
"He was stabbed multiple times, his throat cut, slicing a main artery…and his shoulder," she continued, "as well as stab wounds to his stomach damaging his intestines."
She also criticized how Boston Police officers responded, lamenting that one officer would only say, "he seemed to have a stab wound."
He was stabbed multiple times , his throat cut slicing a main artery and the c6 section of his shoulder as well as stab wounds to his stomach damaging his intestines and all the officer said was " he seemed to have a stab wound "

— The Black Supremacist (@Big_Daddy_Vee) December 27, 2020
Hernandez received criticism on Twitter, with one user saying that gay Black people wanted "special coverage," further claiming that local Boston residents "should know" that "only crimes [local] media speak[s] on are kidnappings."
But Hernandez remains undeterred in her support for Black LGBTQ people and her friend. She continues to push for justice for Crumbley. "Anthony is a truly amazing person with a heart of gold, we are so thankful to still have him here with us today," she later tweeted.
Members of the Black and LGBTQ communities, or both, in Beantown are similarly alarmed.
that have made a difference ? I guess your right I do want attention for the gay black man who was a victim of a hate crime in our city , I didn't know that was frowned upon .

— The Black Supremacist (@Big_Daddy_Vee) December 27, 2020
Hello. A Gay Black man was attacked several days ago in South Boston and the media has chosen not to give this hate crime the attention it desperately needs. Black Lives Matter. ALL Black Lives Matter. Please get this man the justice he deserves.

— Black Boston Inc. (@blackboston2020) December 27, 2020
I know that my timeline is filled with awesome people. This young man was attacked in my neighborhood and needs some help. https://t.co/Okk7dHUbiI

— Bostons Guide to Pleasure $BostonGuide (@touringboston) December 27, 2020
Hernandez suggests that the heinous act could be racially motivated, but also stressed that Crumbley's sexuality may have further influenced the perpetrators.
"That's something that I think needs to be put out there because he wasn't just a black man. He was a gay black man," Hernandez said, "and they need to be protected as well."
Crumbley, for his part, wants the perpetrators identified so he can feel safe once he is able to leave the hospital.
"Come forward and give up the information on who they are, because this is terrifying for me," he pleaded with the public.
After the attack, Crumbley organized a GoFundMe to support him during this difficult time. "These scars are deep but this trauma hits deeper," he wrote when posting photos of his injuries. The fundraiser has exceeded its goal, receiving funds in the tens of thousands.
Boston police have released surveillance footage of suspects in the attack, and ask anyone with information to contact them by calling 617-343-4742.



Read More
LGBTQ News Today, LGBT News, Breaking News Today, Latest News International , Global News Today, News Today