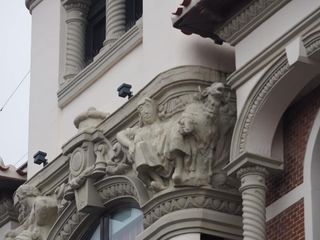 A messed up remediation transformed this statue in Palencia, Spain right into a Gumby-like number.
( Photo: © Thanks To Antonio Guzmán Capel)
Is it … a sculpture that's melted in the warmth? Forky from "Toy Story 4?" A clay figure crafted by a young child? Head Of State Donald Trump?
In yet one more remarkable restoration-gone-awry, a 20 th-century Spanish statuary of a smiling female beside a group of animals has turned into a somewhat confused-looking lump with big holes for eyes, a button nose and a grimacing mouth.
The once-elegant statue, initial unveiled in 1923, is sculpted on the front of a bank in the northern city of Palencia, according to The Art Newspaper. Now, people have actually likened the recovered sculpture to a "potato" as well as Head of state Donald Trump, according to The Art Newspaper.
" It resembles the head of a cartoon personality," Antonio Guzmán Capel, an artist who first explained the messed up remediation, claimed in a Facebook post. "I make certain whoever did it got paid for it," Capel said. "However the larger crime was committed by the person who appointed it and then tried to carry on as though absolutely nothing was incorrect."
Related: In photos: The globe's oldest cave art
This sculpture is simply one in a long line of messed up remediation efforts in Spain. In 2012, an 81- year-old church participant painted a 19 th-century fresco of Jesus that ended up resembling an ape and also earned the nickname "Ape Christ," according to NPR.
In 2018, an amateur restorer painted a 15 th-century Spanish wood sculpture of the Virgin Mary, Saint Anne and the infant Jesus in neon shades, according to NPR. Early this year, a furnishings conservator turned a copy of a renowned "immaculate fertilization" paint of the Virgin Mary by 17 th-century Spanish artist Bartolomé Esteban Murillo right into a smudged, indistinguishable mess, Live Science formerly reported.
Preservation professionals remain to call for stricter laws to remediations. This is "NOT professional reconstruction," Spain's Expert Association of Restorers and also Conservators created on Twitter.
" Mending is not fixing, severe treatments should follow standards, which are globally authorized, as well as those used by the IPCE [the Spanish Cultural Heritage Institute], as well as various other approved entities that exist in Spain," the Valencia-based conservator Illanos Argudo, composed on Twitter, The Art Newspaper reported.
Initially published on Live Science
Scientific Research News, Nature News Today, Breaking Information Today, Most Current News International, Global Information Today, Information Today.