Prime Minister Lee Hsien Loong, who is the secretary-general of individuals's Action Party (PAP), stated throughout the launch of the PAP manifesto on Saturday (Jun 27) that 20 MPs will retire this year.
" In every election as we field brand-new prospects, so we likewise have MPs who are retiring. This year, about 20 MPs are retiring."
In his speech, PM paid homage and thanked Deputy Speaker Charles Chong, Transportation Minister Khaw Benefit Wan, and Emeritus Senior Citizen Minister Goh Chok Tong.
Nevertheless, quite a number of retiring MPs did not make their retirements public.
And some most likely did not expose their retirement plans due to strategic factors on Election Day.

This resulted in a WhatsApp message being extensively circulated online.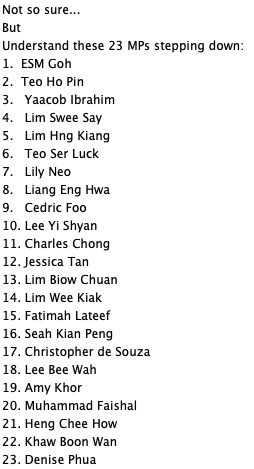 And we understand it's wrong due to the fact that these ten "retired candidates" noted in the WhatsApp message are contesting in this Basic Election:-LRB-
Liang Eng Hwa (Bukit Panjang SMC candidate), Jessica Tan (East Coast GRC candidate), Lim Biow Chuan (Mountbatten SMC candidate), Lim Wee Kiak (Sembawang GRC candidate), Seah Kian Peng (Marine Parade GRC candidate), Christopher de Souza (Holland-Bukit Timah GRC prospect), Amy Khor (Hong Kah North SMC), Muhammad Faishal Ibrahim (Nee Quickly GRC prospect), Heng Chee How and Denise Phua (Jalan Besar GRC prospects)
Below are the 20 PAP MPs who retired this GE, after we know the full list of the PAP candidates for GE2020
1. Ang Hin Kee (two terms), Ang Mo Kio GRC

2. Chia Shi-Lu (two terms), Tanjong Pagar GRC

3. Charles Chong (seven terms), Punggol East SMC

4. Fatimah Lateef (three terms), Marine Parade GRC

5. Cedric Foo Chee Keng (four terms), Leader SMC

6. Goh Chok Tong (10 terms), Marine Parade GRC

7. Intan Azura Mokhtar (two terms), Ang Mo Kio GRC

8. Khaw Benefit Wan (4 terms), Sembawang GRC

9. Lee Bee Wah (3 terms), Nee Quickly GRC


10 Lee Yi Shyan (three terms), East Coast GRC

11 Lim Hng Kiang (6 terms), West Coast GRC

12 Lim Swee State (5 terms), East Coast GRC

13 Lily Neo (five terms), Jalan Besar GRC

14 Ong Teng Koon (two terms), Marsiling-Yew Tee GRC

15 Sam Tan (3 terms), Radin Mas SMC

16 Teo Ho Pin (five terms), Bukit Panjang SMC

17 Teo Ser Luck (3 terms), Pasir Ris-Punggol GRC

18 Yaacob Ibrahim (5 terms), Jalan Besar GRC

19 Yee Chia Hsing (one term), Choa Chu Kang GRC

20 Zainal Sapari (two terms), Pasir Ris-Punggol GRC

Top images by means of Teo Chee Hean/FB, PAP, Goh Chok Tong/FB, Lee Bee Wah/FB.